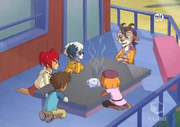 Clara
is is a goat who plays music with a zither to the termites. She wears a yellow dress and a purple bandana, and only appears in "
The Mysterious Vandal
" where she lives in her house, and meets 
Alfred
,
Camille
,
Milo
and
Cynthia
giving them milk and cookies. After Alfred solves the mystery, Clara is worried that she doesn't want a termite mound in her yard, so he calls
Grizz
for helping service.