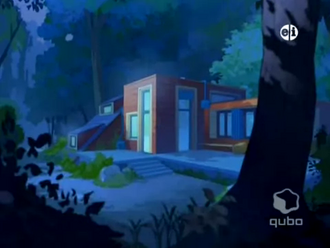 This is the home of
Alfred Hedgehog
and his family. As a commonly seen building, it is pretty well known among the location spots in
Gnarly Woods
. As this is the home everybody comes to whenever they need to speak to Alfred personally.
This house is so well known that the residents of Gnarly Woods are not afraid to break in and wake up Alfred in the middle of the night.
The inside of the house consist of standard rooms, like a big, spacious kitchen combined into the dining room, living room, and on the second floor layout is Alfred parent's room, Lilly's room and Alfred's room.
The house is surrounded by many trees, making it a quiet place to live. Behind the house lays the cared for garden where Ms. Hedgehog does a lot of gardening in her spare time with plenty of decorative plants. Close to the house itself is where Mr. Hedgehog's bees are tended and cared for.
CharacteristicsEdit
The house appears to have been built from Ytong bricks, with orange wooden or metal clad pieces on the outside, along with steps leading to the front door and multi-layered house shape with multiple windows. The roof is combined to be part flat, while the other part is made of metal roof tiles. The house is surrounded by grass.
The house has a two full glassed front doors and many big windows. On roof also sits a pair of solar panels.
Alfred's roomEdit
This is, where our young detective hangs out usually when not outside investigating or at the Hedgequarters. The room contains everything a young hedgehog like Alfred needs. Such as a bed, table with computer and chair, bookshelves and many decorated items. His room was also part of a few mysteries.
A living roomEdit
The family often relaxes here when they are not doing anything.
A kitchenEdit
This is where Mrs. Hedgehog makes her delicious meals and where the family, and occasionally friends, hang out to eat or discuss mysteries. It has a a big windows around one wall, facing the garden.
A parents bedroomEdit
Mr. and Mrs. Hedgehog's sleep here.
A little sisters bedroomEdit
This is Lilly's bedroom, where she sleeps or many times likes to draw or paint.
In The Mysterious Fog, Mr. Thomas' balloon crashes directly on top of the house.