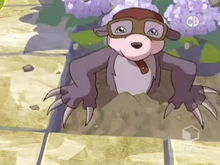 Minnie is a minor character that appears in only one episode (The Great Flower Mystery) when she surfaces above Mrs. Hedgehog's hydrangea garden. She might be a mole.
Although her role is minor, she is important to this episode, as she helps them obtain clue #2 - the bad taste of the soil.
She has a bit of a raspy voice, which adds to her implied ambitious and persevering character.
Ad blocker interference detected!
Wikia is a free-to-use site that makes money from advertising. We have a modified experience for viewers using ad blockers

Wikia is not accessible if you've made further modifications. Remove the custom ad blocker rule(s) and the page will load as expected.