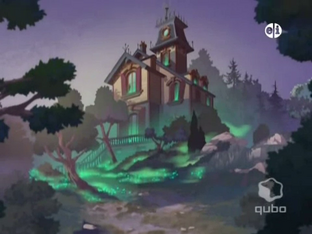 Ms. Radley's Mansion on Mayberry Hill is a somewhat important location to Detectives, due to being involved in two mysteries. One personally. Her only Inhabitant is Ms. Radley.
The inside of house was never shown in series.
The mansion stands on hill, surrounded by thick forest. There appears to be a shaft, leading into basement.
The around of house is overgrown with Jack O'Lantern Mushrooms.
CharacteristicEdit
The house appears to build from standard bricks with wooden paneling and with many big windows, facing every direction. There is also a little tower. The whole building stands on tall wooden terace.
Ms. Radley's Mansion appears to be biggest house in Gnarly Woods.
The name, Boo Radley's house, is actually based off of 'To kill a mocking bird'.
Ad blocker interference detected!
Wikia is a free-to-use site that makes money from advertising. We have a modified experience for viewers using ad blockers

Wikia is not accessible if you've made further modifications. Remove the custom ad blocker rule(s) and the page will load as expected.