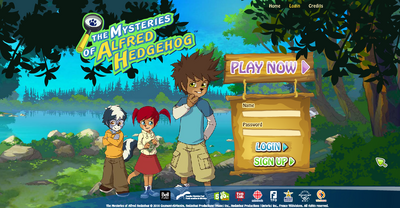 The Mysteries of Alfred Hedgehog Online game, is a game produced by the makers of
Alfred Hedgehog
. It was made in 2010 and is much like the series itself. In which you can play through many cases in order to determine the answer.
You are required to make a Log In name, to play this game in order to keep track of your scores and what not.
Once fully beaten, you can replay the game if you wish, from the very beginning or by each individual episode.
The game works in both English and French languages.
Main Screen
Edit
After log in, you are taken to the Hedgequarters. There you can choose from the following:
Quest: Where you can pick which mystery you wish to solve/the main game.
Game Masters: Individual scores from each minigame are located here.
Mini-Games: Any minigame unlocked can be played here.
My Herbarium: You can view small amounts of information, along with images of the items that belong on this section that you have found.
My Files: You can review what you have learned on each case so far, or the answer itself.
On the top, you can click to return to the home page, or to the Log in screen.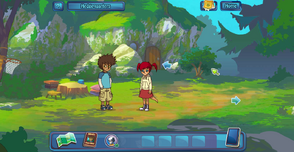 In the entire game there is a total of 13 mysteries to solve. In each one the formula follows the show itself. However it differs in which you are given three possible solutions and you must pick the right one, or else simply try to pick another.
The basic game screen as seen on your left. Consist of a scene and characters. On the top is the location name, and a "?" button that will help you if you are stuck. On the other corner is a the Herbarium button, and a Home button. Blue arrows on the screen represent where you can move to.
On the bottom screen you have the map, Alfred's photo album which you can print out and a bubble, which gives you a hint as to what you must do next. On the other side of the toolbar is where inventory is kept, along with the Detectaberry.
Each mystery also offers items to collect for the Herbarium, as well as every other including a minigame. For more information please visit the mysteries page itself:
Minigames
Edit
As stated above, there are plenty of minigames in the actual game itself. They cannot be avoided, and must be played in order to continue with the mystery itself.
However, if you have difficulty then Alfred will offer to aid you in completing the requirements so that you can continue to solve the mystery. In order to see how to solve the minigames, or what may be involved, please view the indivisual mystery itself.
My Herbarium
Edit
Each quest offers a few pieces of collectable items, which are located in the Herbarium. Which means "A collect of preserved specimens". Each changes per quest so your not necessarily looking for the same types of items.
For more information on what each item is, and how to find it then view one of the mystery pages.
Quest 1: Bird Eggs, Amphibians, and Nuts
Quest 2: Flowers, Leaves, and Bird Nest
Quest 3: Mushrooms, Antlers, and Beneficial Insects
Quest 4: Stinging Plants, Birds of Prey, Animal Tracks, Nocturnal Animals.
A few of the quest take from, or are modified, versions of mysteries in the show. For any quest pertaining reference or being like an episode please view the quests page.
In the photo album one can print out. One picture is labled "The 3 friends" and shows Cynthia, Louise, and "Julie". Yet no Tina in sight. She does not even appear in the game.