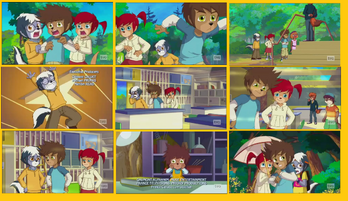 Welcome to the Wiki!
This wiki is dedicated to the Mysteries of Alfred Hedgehog series. If you landed here by accident, or with intention, good or bad, take some time and experience the beauty of this unique series.
Wiki's Goal
This wiki, as stated above is about a cute, learning series with plenty of fun and exciting moments. This wiki shall inform everybody or anyone who wishes to learn about "Mysteries of Alfred Hedgehog"!
This Wiki is still growing and being worked on so keep checking back! If you wanna help feel free to add or upload pics. However, if you wish to contribute please follow the rules!
Contributing Rules
Do not use the pages to spam or enter gibberish, commercial or troublesome things. Only stick to the facts pertaining to Alfred Hedgehog.
Do not make multiple pages or useless articles.
Please, do not add "Fanon" (not real, or Canon) information on the pages.
Any type of debate, such as a "crush" relationship between Alfred and Camillie, or anything like this, will be considered spam and will be removed. You can share your opinions, but we don't want arguements about fanon related information. 
Everything must be written in English.
Only links pertaining to this series are allowed, and also only link to following pages on this wiki.
If you edit something, write in the summary what it was, please.
All of these rules also apply on commentary and forum section.
Any pornographic material is strickly forbidden here. This wikia is to be for all ages. 
If you do not stick to the rules then you will be blocked from editing any further and the content will be erased/deleted. Even if you vandalize, keep in mind it wont be around long. These rules may be harsh for its for the sake of keeping a wonderful wiki. Please do not ruin it for those who wish to learn.
What now?
If you have any questions, problems, complaints or, just want to talk, don't worry and write me at my talk page. I will be happy to reply...
[[User:Drunk Panda|Drunk Panda 07:49, February 6, 2012 (UTC) ]]
Updates
I just enabled chat here. Not like there will be someone to use it, but it's looks better now. Drunk Panda 07:31, February 10, 2012 (UTC)
Woohoo! We just reached a 100th page on this Wiki! I am happy to see, how it came up so good. I want to thank everyone for their support, esspecially Chris, which made a lot of work here.