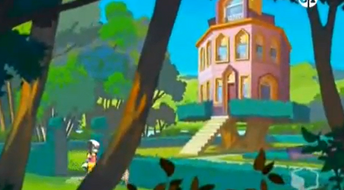 This is the home that belongs to
Mrs. Payne
and
Cynthia Payne
. It's never directly spoken of and shown to its full extent, so it is unknown if anybody else takes residency there. Most likely however, it is just them two.
It showed up a few times during the series, though more outside then inside. Only 2 rooms inside have been shown as most focus takes place in the "backyard" portion of the home.
Part of the layout may have changed between episodes, as it sometimes does not seem consistent.
Originally when shown, Cynthia's home rested on what looked to be multiple trees and bushes. A tall set of steps leading to her front door. But in another episode it was shown to have a porch/podium and steps on the side, which may or may have been a recently put in "back" entrance.
From what was shown, the home has many big rooms inside of it and if each window on the outside implies anything then a lot of rooms are in the home. Most likely the bed rooms are on the upper half, while the "party room" used in The Case of the Mysterious Visitor is located on the bottom. Along with kitchen, living room, dining room, and so on and so on.
Characteristics
Edit
Most likely as a sign of their apparent wealth, Cynthia's home is very tall and almost a "church" shape. With two floors and in the middle another segment. Its been shown that the windows and door are made of stained glass, but other times will appear to be normal. The house itself is light pink with yellow-orange lining detail, orange-ish roofs, and yellow curtains from each window and segment. The steps leading to the home are usually a pale yellow color.
As said, not every room has been revealed in the series. Only a couple of them:
Party/main entrance Room
Edit
For Cynthia's birthday, they had converted the main entrance room into a "party room". The walls are a pink-purple color with multiple different types of chairs and items located about, including one that looks to be see through and crystal-like. A fireplace and mirror was also shown in the corner next to the door. The floor itself is teal-sky blue with dark gray lines and white marks between each of them. At the top of the walls is pale yellow lining with light pink designs. Each room that leads to another room has tan/wood segments around and above the door path. The ceiling is pale pink.
Shown in the episode, "The Haunting Sound" when Ms. Payne explains what happened when her items shattered due to some high pitched sounds.
Here in this place, the fundraising event is set during the episode about raining fish.